Notice of GUNDAM NEXT FUTURE -LINK THE UNIVERSE-
We will hold the first special event in the history of the Life-Sized Gundam statue, where all three Life-Sized Gundam statues will be synchronized to the "Moving Gundam". Synchronize the "Moving Gundam" in Yokohama, the Life-Sized Unicorn Gundam Statue in Daiba, The Life-Sized Freedom Gundam Statue in Shanghai, and the Life-Sized ν(Nu)Gundam Statue in Fukuoka. Gather with the BGM of Gundam and laser performance so you can enjoy the new production style for the first time.
Additionally, you can watch the online "LINK THE UNIVERSE" of each venue on July 14th (Thur.) and July 15th (Fri.) thru the Virtual Gunpla Entertainment Comprehensive Space "THE GUNDAM BASE VIRTUAL WORLD". More details will announce on the "GUNDAM NEXT FUTURE" official website later.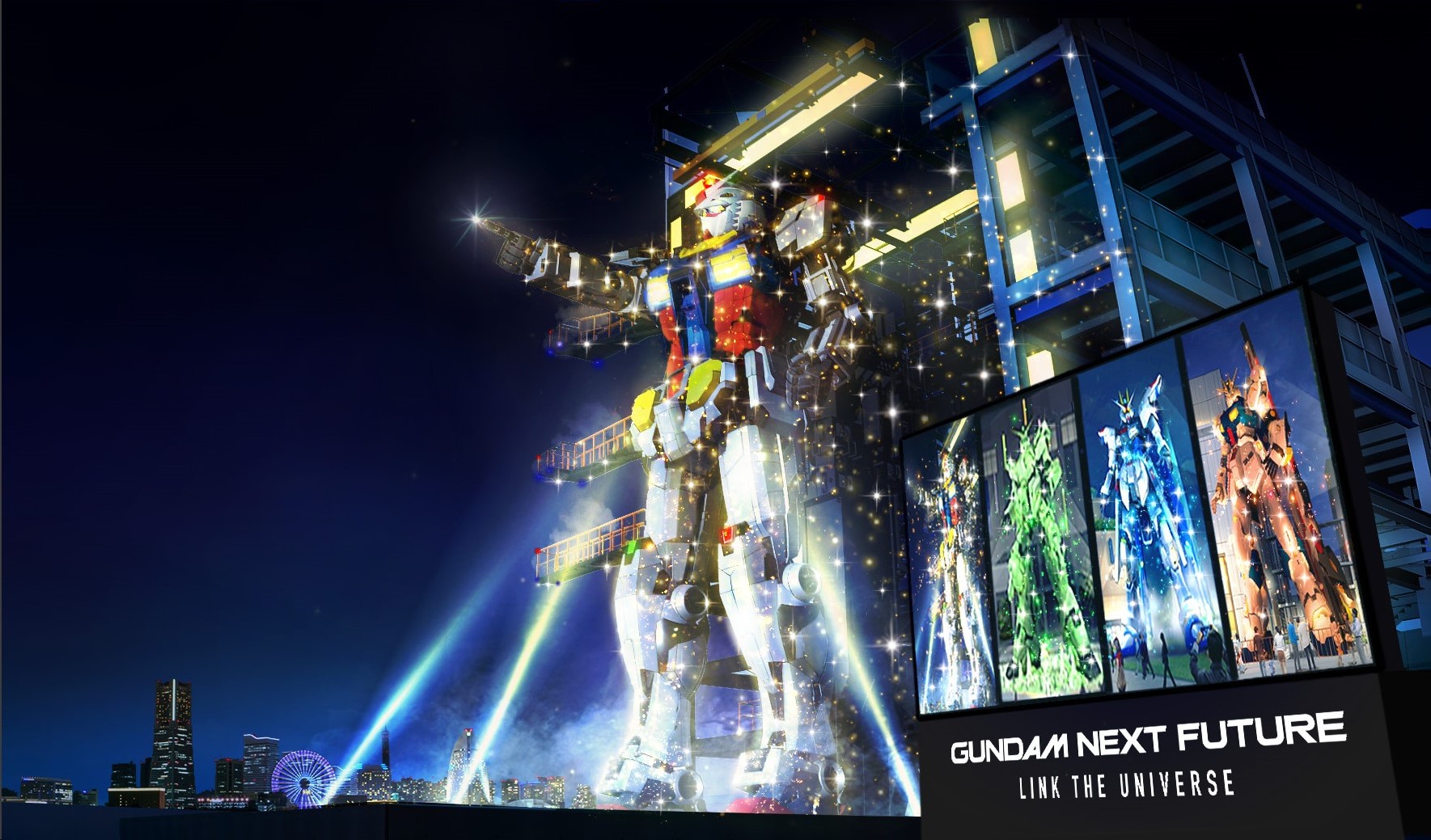 *The image is a simulation.

Moreover, "Mobile Suit Gundam: The Witch of Mercury" prequel "PROLOGUE" will be unveiled at the following venues for the first time.

■Date:July 14th, 2022 (Thur.) and July 15th, 2022 (Fri.)

■Venue:
○ "GUNDAM FACTORY YOKOHAMA" * July 14th (Thur) is press release day, and July 15th (Fri.) is an invitation day
○ Diversity Tokyo Plaza, The Life-Sized Unicorn Gundam Statue
○ Mitsui Shopping Park Lalaport Fukuoka, The Life-Sized ν(Nu) Gundam Statue
○ THE GUNDAM BASE VIRTUAL WORLD(Virtual Gunpla Entertainment Comprehensive Space)
*This project's schedule and content are subject to change or cancellation without notice.
*You may not be able to see the production due to the congestion situation.

About the "GUNDAM FACTORY YOKOHAMA" venue,
July 14th (Thur) is press release day, and July 15th (Fri.) is an invitation day.
*The press release day of "GUNDAM FACTORY YOKOHAMA" on July 14th (Thur) will only be open for the press.

■How to participate in the invitation day:The application for general participants on July 15th (Fri.), the invitation day of "GUNDAM FACTORY YOKOHAMA" will be a lottery system. Details about participation and attention method will be announced thru the "Gundam Navi App" and "Gundam Fanclub".

*What is "Gundam Navi App"?
The smartphone application gathers all related news about Gundam, such as the Gundam series animation, Gunpla, games, and events. Moreover, you can watch each official Youtube channel and reach an official database where you can browse the animation series's characters and MS(Mobile Suit) with this application.

「GUNDAM NEXT FUTURE」Official Website:https://bandai-hobby.net/site/gnf/